Diana Barisoff
Qualified Retirement Plan Solutions Consultant,
Cetera Retirement Plan Specialists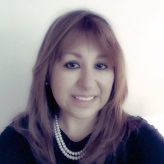 Diana Barisoff joined Associates in Excellence (now known as Cetera Retirement Plan Specialists) in 1999. Her primary focus is to provide qualified retirement plan consulting and solutions to financial advisors for their small- and medium-size clients. In addition, Diana assists clients and advisors regarding all phases of their qualified retirement programs, including plan design, vendor assessment, plan conversions, employee education and training.
Diana's tenure in the retirement industry spans more than 20 years. She is an active member of the American Society of Pension Professionals and Actuaries (ASPPA), National Association of Plan Advisors (NAPA) and Fi360 Inc.
Diana holds ASPPA's Qualified 401(k) Administrator designation, Fi360 PPC Professional Plan Consultant designation and a bachelor's degree in mathematics and a degree in physics from the University of Barcelona & UNAM.  Diana recently earned the Human Resources Practices Certification from the School of Industrial and Labor Relations from Cornell University.
Have Questions - Need Answers?
It can be difficult to make financial decisions without access to information. If you have questions or concerns about your current retirement strategy, feel free to contact us using the form below.