Clint Gharib, AIF®, CFE
d
®
Accredited Investment Fiduciary – AIF®
& Wealth Manager
404-479-8111
cgharib@oxfordra.com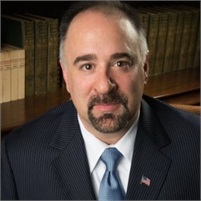 Clint Gharib is an Accredited Investment Fiduciary — AIF® and independent financial advisor with more than 29 years of experience advising both clients and other financial representatives. The AIF® designation is put out by Fi360, and all AIF® certified advisors are required to complete annual training as well as adhere to a Code of Ethics.
Clint is the founder and a senior member of Oxford Retirement Advisors. His life was forever changed when he was able to stay in college from gains made in the stock market, and he has had a passion for using the markets to accomplish dreams since then. Mitigating risk has been and remains Clint's obsession.
Clint is an entrepreneur to the core and has appeared in or been quoted in media outlets such as Dow Jones Newswire, WSJ.com, Forbes, CNBC and AJC.com. Clint graduated from Indiana University — Go Hoosiers! — with two Bachelor of Arts degrees in 1989. He has passed the Series 65 (Investment Advisor Registration), Series 7 (General Securities Registration), Series 24 (General Securities Principal) and Series 53 (Municipal Securities Principal) securities exams. He also has his Certified Financial Education (CFEd®) certification as well as life insurance licenses in many states across the United States.
Clint is a recipient of the 2014 and 2015 Five Star Wealth Manager Award, and was a Best Wealth Manager in Atlanta Magazine in 2009. He was awarded the 2014 Fast Growth Entrepreneur of the Year award by the Oxford Center for Entrepreneurs in Atlanta.
The Five Star Wealth Manager Award, administered by Crescendo Business Services, LLC (dba Five Star Professional), is based on 10 objective criteria. Eligibility criteria - required: 1. Credentialed as a registered investment adviser or a registered investment adviser representative; 2. Actively registered as a registered investment adviser or as a principal of a registered investment adviser firm for a minimum of 5 years; 3. Favorable regulatory and complaint history review (As defined by Five Star Professional, the wealth manager has not: A. Been subject to a regulatory action that resulted in a registration being suspended or revoked, or payment of a fine; B. Had more than a total of three settled or pending complaints filed against them and/or a total of five settled, pending, dismissed or denied complaints with any regulatory authority or Five Star Professional's consumer complaint process. Unfavorable feedback may have been discovered through a check of complaints registered with a regulatory authority or complaints registered through Five Star Professional's consumer complaint process; feedback may not be representative of any one client's experience; C. Individually contributed to a financial settlement of a customer complaint; D. Filed for personal bankruptcy within the past 11 years; E. Been terminated from a financial services firm within the past 11 years; F. Been convicted of a felony); 4. Fulfilled their firm review based on internal standards; 5. Accepting new clients. Evaluation criteria - considered: 6. One-year client retention rate; 7. Five-year client retention rate; 8. Non-institutional discretionary and/or non-discretionary client assets administered; 9. Number of client households served; 10. Education and professional designations. Wealth managers do not pay a fee to be considered or placed on the final list of Five Star Wealth managers. Award does not evaluate quality of services provided to clients. Working with a Five Star Wealth Manager does not ensure that a client or prospective client will experience a higher level of performance or results. The inclusion of a wealth manager on the Five Star Wealth Manager Award list should not be construed as an endorsement of the wealth manager by any client nor are they representative of any one client's evaluation. The Five Star award is not indicative of the wealth manager's future performance. Working with a Five Star Wealth Manager or any wealth manager is no guarantee as to future investment success nor is there any guarantee that the selected wealth managers will be awarded this accomplishment by Five Star Professional in the future. For more information on the Five Star award and the research/selection methodology, go to fivestarprofessional.com. Listing in this publication and/or award is not a guarantee of future investment success. This recognition should not be construed as an endorsement of the advisor by any client.
Have Questions - Need Answers?
It can be difficult to make financial decisions without access to information. If you have questions or concerns about your current retirement strategy, feel free to contact us using the form below.